It's bad when the host laughs at his joke before the audience does. It's even worse when those jokes are plainly tasteless and offensive.
Something is wrong with this year's Oscars when they bring William Shatner in his Star Trek garb and use Captain Kirk's moral compass to justify host Seth MacFarlane's jokes, such as his comparison of Django Unchained with Chris Brown and Rihanna's abusive relationship.
To complete the pattern of degrading women, Macfarlane serenaded various actresses, beginning with 2004 Life Achievement Award Winner Meryl Streep, with a song that starts with "We saw your boobs. In the movie that we saw, we saw your boobs" and proceeding to name about fifteen other well-respected women for on-screen nudity.
The editor did a splendid job capturing Nicole Kidman— jaw dropped in astonished disgust— and Charlize Theron—head in hand as she looked down in uncomfortable outrage—when they heard their names. The editor did not, however, focus on Denzel Washington's face when Macfarlane showed his insensitive re-make of Flight using sock-puppets, followed by a joke that, as a white guy in 2013, MacFarlane can't wear "black-hand."
The award-winners' honesty and eloquence during their speeches were a relief from Macfarlane's demeaning attempts at humor.
When Anne Hathaway won Best Supporting Actress for Les Misèrables, she accepted her award and breathlessly said to herself, "It came true" before diving into her speech.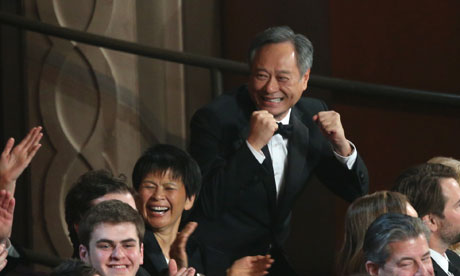 Ang Lee began his speech upon winning the Achievement in Directing award for Life of Pi with a disbelieving, grateful bow and by thanking both the audience and the "movie god."
Jennifer Lawrence's surprised and joyous expression alone when she won Best Leading Actress for Silver Linings Playbook was enough to win over the audience, not to mention her self-effacement for having tripped her way up the stairs.
When Argo won Best Picture, Ben Affleck spoke tearfully, commending the eight other spectacular nominated films, and ending his "thank you's" with touching words to his wife, Jennifer Garner.
Daniel Day-Lewis, Leading Actor winner for Lincoln, and Michael Haneke, director of Best Foreign Language Film Amour, both gave speeches full of eloquence, humility, and humor. When Day-Lewis joked with Meryl Streep, "it's a strange thing, because three years ago…I had actually been committed to play Margaret Thatcher, and Meryl was Steven's first choice for Lincoln," it was actually funny—unlike Ted the bear's joke about finding the Oscar orgy.
One thing MacFarlane did well was introduce the theme of this year's Oscars: celebrating music in film. Jennifer Hudson sang a soulful "And I Am Telling You I'm Not Going" from Dreamgirls that brought the audience to its feet. The cast of Les Miserables performed a "One Day More" that filled the entire room and gave goose-bumps.
MacFarlane did not continue the theme well, however, with the highly-secretive, highly-anticipated song he performed at the end with Kristen Chenoweth. It was not quite as surprising and hilarious as advertised: a song dedicated to "the losers" was not rewarding after a long night of derogatory, condescending humor.
Perhaps the best part of the night was watching 9-year-old Quvenzhané Wallis, Leading Actress nominee for Beasts of the Southern Wild, raise her arms in proud excitement, when she was announced: no façade or agenda, no harassing or forced joke, she was simply a happy little girl showing her big muscles, thrilled to be at the Oscars.